Nigeria rise to 41st on latest Fifa Ranking, Cameroon's ranking Surges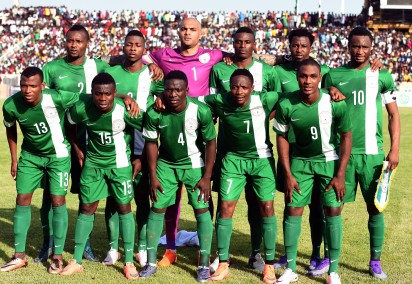 The Fédération Internationale de Football Association (FIFA), the world's football governing body announced the new Fifa World Rankings on twitter.
Surprisingly, Nigeria climbed nine places to 41st on the rankings despite missing out of the 2017 African Cup of Nations (AFCON) in Gabon.
It's the highest Fifa ranking for the three-time African champions in over two years as they continue to surge up the table under German coach Gernot Rohr.
The Super Eagles who last played in November (a 3-1 home win over Algeria in a 2018 FIFA World Cup qualifiers) remain the seventh-placed country in Africa behind AFCON silver medalist Egypt, Senegal, reigning African champions Cameroon, Tunisia, Congo DR and Burkina Faso.
 The Indomitable Lions of Cameroon are the biggest movers on the continent as they climbed twenty-nine places to 33rd, while The Pharaohs of Egypt move up twelve places to 23rd in the world.
Algeria were big losers on the Fifa ranking, dropping eleven places to 50th, while Ghana climbed nine places to 45th.
The Eagles return to competitive action in the qualifiers for Afcon 2019 later this year, before the massive World Cup qualifier double-header against Cameroon in August.
Lionel Messi's Argentina continues to sit atop the world rankings as the top five teams in the world remain unchanged.
Brazil is second, ahead of World Champions Germany, while Copa America holders Chile and former number one-ranked team Belgium complete the top five.
France and Columbia switch places at sixth and seventh while Portugal, Uruguay and Spain complete the top 10.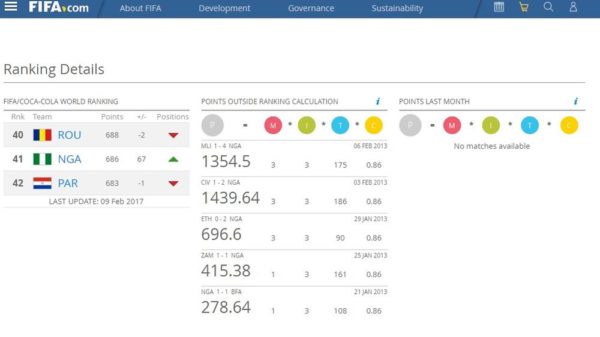 World Ranking
(1) Argentina (2) Brazil (3) Germany (4) Chile (5) Belgium (6) France (7) Colombia (8) Portugal (9) Uruguay (10) Spain.
African Ranking
(1) Egypt (2) Senegal (3) Cameroon (4) Tunisia (5) Congo Dr (6) Burkina Faso (7) Nigeria (8) Ghana (9) Cote d'Ivoire (10) Morocco
The next Fifa World Rankings will be published on 9 March 2017.