Burna Boy is permanently leaving!
Nigerian award winning musician Burna Boy says he is leaving all social media platforms permanently.
The music star made this known via his Instagram page on Wednesday, May 15, 2019. According to him, his social media pages will now be used strictly for business and controlled by his management team.
I'm leaving all social media platforms permanently. They are all now strictly for my show dates and new music. My social media will now be in the full control of management. Love and positivity to all.
Burna has not made the reason behind his decision known yet. However, it might be connected to his recent controversial comments on social media which were not well received by critics.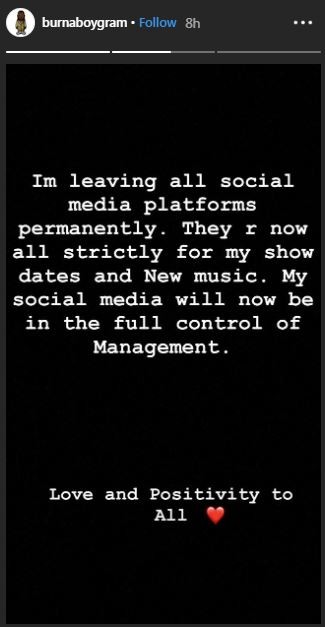 It could also be that Burna is taking the time off to record some great hits that are yet to come as this move of his has been carried out by Kanye West during the recording of some his great albums like, "My Beautiful Dark Twisted Fantasy."
We however hope this is the case!